Administration of Organizations in Health Services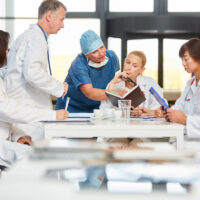 Description
The program in Health Services Administration's mission is to train professionals who occupy solid management positions, providing knowledge and assisting in the development and professional qualification and management skills required by the health sector. The Master's modality was structured to meet the needs of Brazilian students.
This program is offered at:
Portuguese
English
Spanish
Goals
The goal is to increase knowledge on a topic of academic interest and encourage theoretical reflection. It is intended, at first, for those who want to grow in the academic circuit, as a teacher or researcher.
Registration requirements:
I – Application for admission
II – High School Diploma or General Education Development (GED)
III – Postgraduate courses, higher education diplomas